Is It Time for Gold and Precious Metal Funds?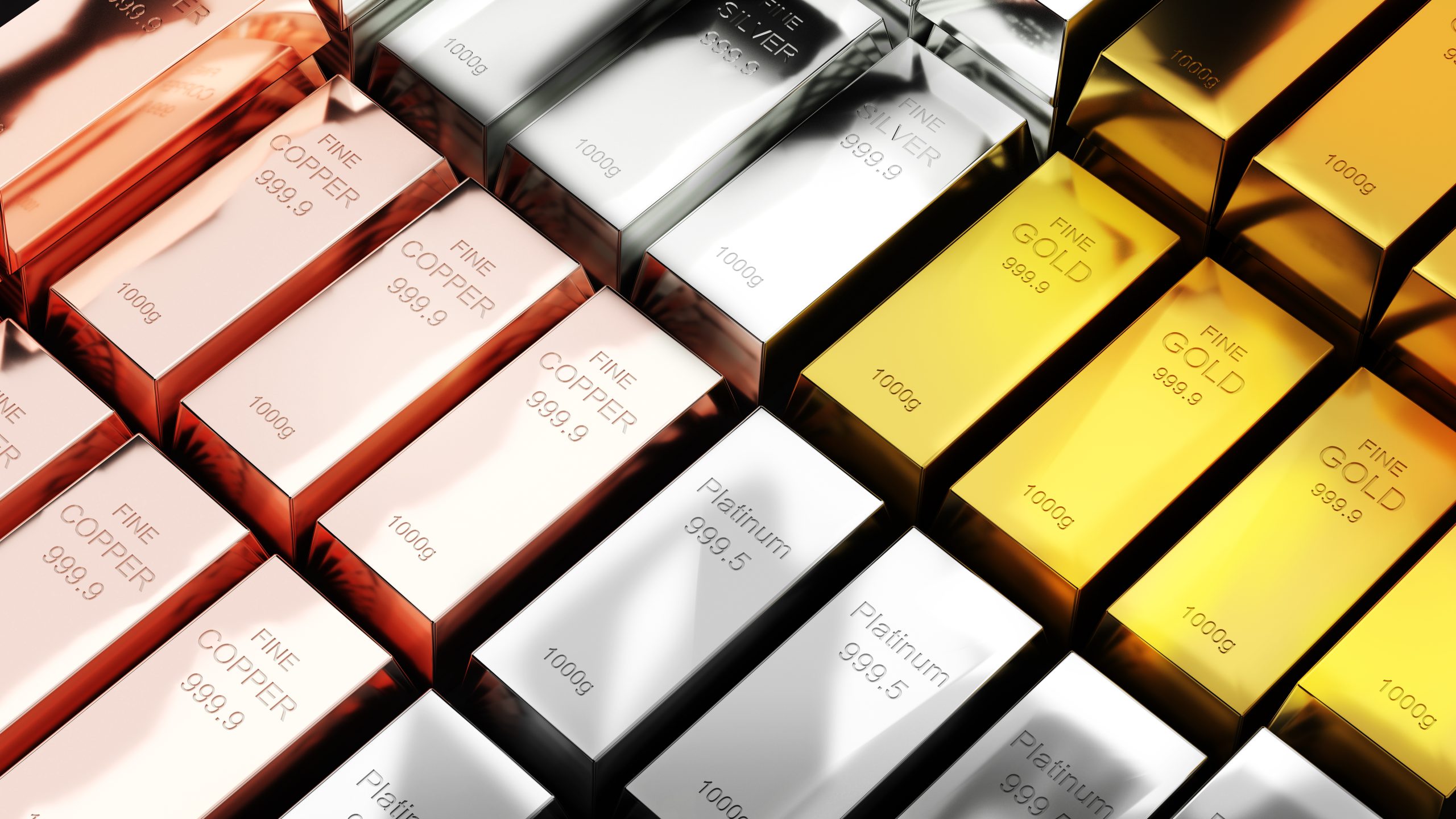 Jerome Powell, the Chair of the Federal Reserve, recently announced that the Fed will adjust interest rates at a more cautious pace1. While he expects two more rate hikes this year, the market seems to be anticipating steady interest rates in the United States, with the potential for a decrease in 2024. As a result, some investors are turning bullish on gold and precious metal prices, and funds investing in these assets have become increasingly attractive to them.
In this article, we will talk about what gold and precious metal funds stand for and evaluate the four major reasons why investors are looking into these funds now.
What are gold and precious metal funds?
Gold and precious metal funds are investment vehicles that allow investors to gain exposure to the precious metals markets. These funds can invest in a range of assets, including gold, silver, platinum, and palladium, either directly or through the stocks of companies that mine these metals.
Four major reasons for investing
1. Hedge against Weak US Dollars: Gold and other precious metals tend to rise when the US dollar weakens, as these metals become relatively more valuable in other currencies.
US Dollar VS Gold Prices (10 Years Figure)2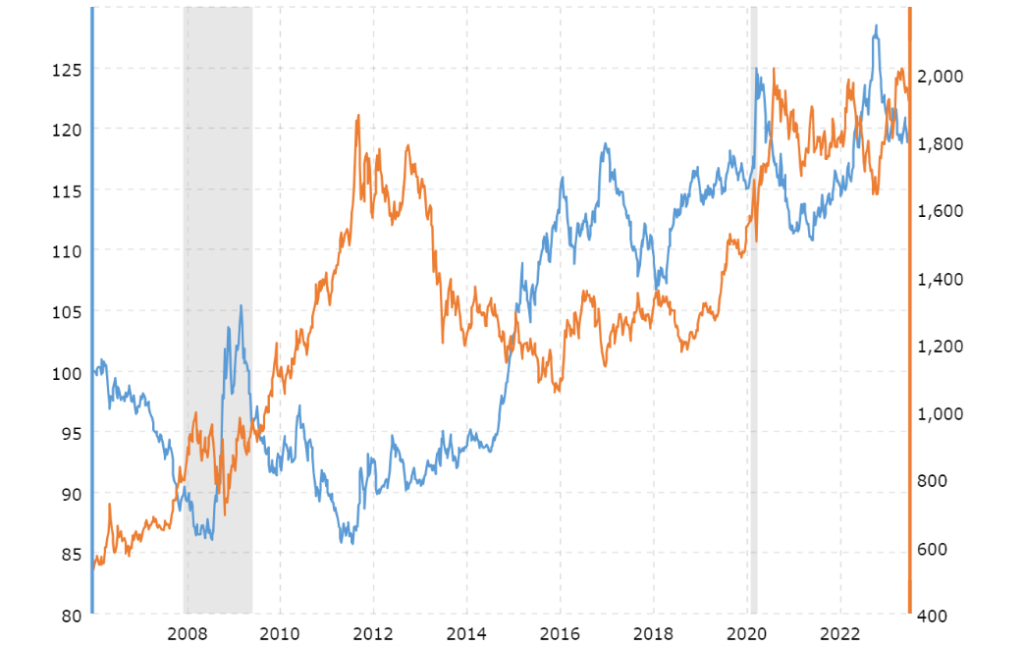 With the market generally expecting the US dollar exchange rate to relatively weaken this year due to the end of the interest rate hike cycle and potential interest rate hike in other major currencies like Euro3 and Pounds4, investing in gold and precious metal funds could be a hedge against weak US dollar.
2. Hedge against Inflation: Gold and precious metals are often seen as a hedge against inflation, as their prices tend to rise when inflation is high. Although there is no research confirming the correlation between inflation and metal prices, some of the investors still believe investing in these assets could help protect their purchasing power.
3. Hedge against Global Economic Downturn: Gold and other precious metals are perceived to be less volatile during global economic downturns for some investors. In March 2023, the banking
crisis caused significant impact to the market sentiment, and we are seeing big uplift in gold and silver demand as well as the price during the banking crisis. The World Bank also warns the global economic downturns may start later this year, and investors are likely shifting their investment to more conservative investment5.
Gold & Silver Price in Past 6 Months6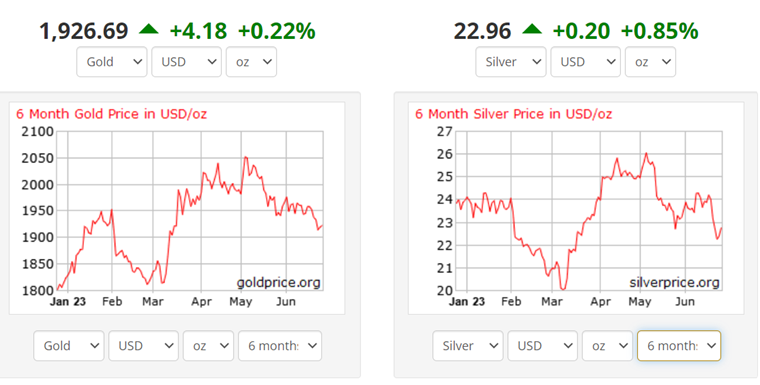 4. Increasing Demand: According to the World Gold Council, growing interest in gold as an investment asset is indicated by the fact that 24% of countries interviewed are planning to increase gold investment in the coming 12 months7. Geopolitical concerns, worries about interest rates, and rising inflation pressures are still the main reasons why central banks surveyed continue to increase their holdings of gold.
In conclusion, gold and precious metal funds may offer investors a range of benefits, including hedging against a weak US dollar, high inflation, and global economic downturns. If you would like to understand this asset class and know more about the potential investment opportunities to diversify their portfolios, please talk to your financial advisor at OnePlatform Asset Management today and see how you can leverage them to meet your financial goals.
[1] Data from RTHK; [2] Data from Macrotrends; [3] Data from Investor.com; [4] Data from Investor.com; [5] Data from HK01l; [6] Data from Gold Price; [7] Data from Gold Market Commentary
#Disclaimer and Notes
Investment involves risk and past performance is not indicative of future performance. The content of this article is for reference only, and OnePlatform Asset Management Limited shall not be liable for any loss or damage caused by any person's use or misuse of any information or content, or reliance on it. Please consider to seek professional advice before making any investment if needed.
Fund products and portfolio management services are distributed and/or rendered by OnePlatform Asset Management Limited (a licensed corporation with SFC CE No. AFQ784).